Come one, come all!
March 23 – 7:00pm | Beth Israel Messianic Synagogue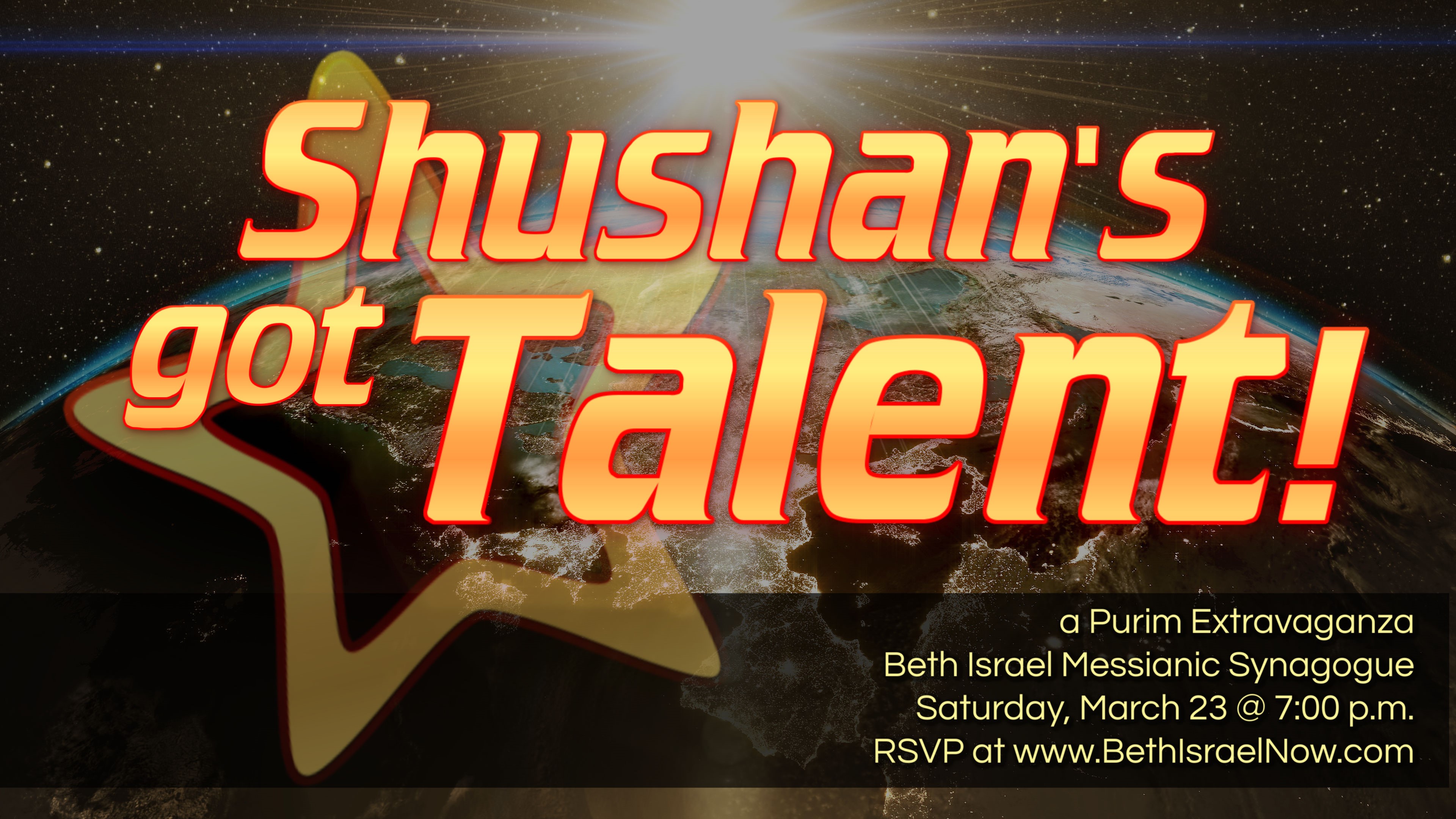 Join in the Purim fun at Beth Israel Messianic Synagogue!  This year's celebration of Queen Esther's bravery will take place on Saturday, March 23 at 7:00 p.m.  We will be hosting a Purim-themed variety show called "Shushan's Got Talent!"  and are looking for mishpocha from our synagogue to volunteer for special performances and acts to share with the audience.  You will also be delighted by our four VERY special judges who will be coming to us all the way from Shushan!
Anyone wishing to perform in the variety show, please complete a Purim Performance Application and submit it to Brian Roes no later than Wednesday, March 6.  Performance spaces are limited and we will be selecting the acts that will be featured in early March.
Link to download Purim Performance Application   https://kvisit.com/PA/i6UB/wO8t2n4,1,yzLr5BALEjVqnJKxy5YsNvlmVSb_LwoxqbYK8J8Y_Ys
You can bring Hamentaschen to share. There will also be refreshments. To help us prepare for the party, we're asking for RSVP donations of any amount. If you plan to come, please RSVP so that we know how many people to expect. You can RSVP at the Welcome Desk or through the online form below.
Fill out your name, email, and how many people will be in your group and submit your RSVP, then follow one of the links below to make a donation.
After submitting your RSVP, please click the button below to make a donation of any amount for the Purim Party.
Donate Via GivingFire
Make a one-time donation or
create a GivingFire
account to donate. Choose the "Purim Party RSVP" fund.
Donate Via Paypal
Login with your Paypal account or choose "Donate with a card" if you don't have an account.